Organizing for Action (OFA) is a month-old, nonpartisan, non-profit, pro-Obama advocacy group that spawned from "Organizing for America," President Obama's 2012 Campaign machine. Big time donors have been solicited. President Obama has built a powerful organization, which seeks to mobilize those who want to promote the so-called "national agenda," (i.e., President Obama's positions) on Gun Control, Immigration and Climate Change.
The top five creepiest things about the Obama Cult are as follows:
1.) Coordinated Attacks on Elected Officials:
Some of the most concerning aspects of the fledgling Obama machine have been highlighted in recent news reports. For example,
Organizing for Action
endorses and promotes
coordinated attacks on elected officials.
As reported by Mollie Reilly of the 
Huffington Post
, Organizing for Action has developed an expensive online advertising campaign targeting 
"16 Republican lawmakers who have not publicly committed to stricter background checks,"
referencing Obama's gun control agenda.
A spokesperson said that on the OFA-sponsored "Days of Action," there will be events throughout the country focusing on elected officials and media outreach events. These events include "Letter to the editor writing parties, or rallies and press events, to candle light vigils and petitions for members of Congress." Letter to the editor writing parties? Sounds like a blast! Keep this in mind when reading your local newspaper.
2.) The "Nonpartisan" Machine:
As reported by Kenneth T. Walsh of 
U.S. News and World Report
, an OFA fund raising memo says that one of the goals of OFA is to 
"strengthen the progressive movement…"
Although the OFA claims to be nonpartisan, their website explicitly states that it exists to "support President Obama in achieving enactment of the 'national agenda'." While Organizing for Action invites all Americans to support the President's "legislative agenda," only those who support policies promoted by the Obama administration need apply.
Stephanie Cutter clarified
"This particular organization, the way it's organized, legally, we can't participate in elections…That doesn't mean that the issues we're organizing around won't mobilize the American people to vote for things. To vote for that economy we've been working toward, to vote for immigration reform… I think we can affect elections even if legally we can't be involved with them for this particular organization."
Also concerning, OFA is 
teaming with Big Labor
to bus Obama policy supporters to an upcoming demonstration in Albany to counter a rally supporting Second Amendment rights, where massive (and unpopular) gun-control legislation in New York will be supported. OFA will provide a free bus ride, as well as breakfast and lunch to anyone who wants to register. Fortunately, a screenshot was collected, as the original link,  
my.barackobama.com
, has since been scrubbed. Is this even legal? Since when do United States Presidents arrange protests?
Image Source: The Gateway Pundit
Organizing for Action is supporting the the over-reaching NY Safe Act, which allows confiscation of weapons of "potentially dangerous mental health patients," "outlines a stricter definition of assault weapons," boasts the "strongest ban on high capacity magazines in the country," will "track ammo purchases in real time," will require legal gun owners to "recertify their permit every five years," will feature a "new comprehensive, and regularly updated, gun registration database," and much more.
Joseph Gilbert of the Examiner reports that "As of Feb 23, 47 Counties and 16 Towns have passed resolutions or have resolutions pending rejecting the law. Additionally, 5 county Sheriffs and the Association of County Clerks oppose the Safe Act." The law stinks. And the idea that the President would have any part in organizing a rally is unpresidential, to say the least.
4.) The "Extremely Worrisome" OFA Database:
Maxine Waters referred to the Organizing for Action Database on an interview with Roland Martin.  She said:
"The President has put in place an organization that contains the kind of database that no one has ever seen before in life. That's going to be very, very powerful…And that database will have information about everything on every individual in ways that it's never been done before." She continues, "And whoever runs for President on the Democratic ticket has to deal with that. They're going to have to go down with that database and the concerns of those people, because they can't get around it."
A must-read article from Michael Isikoff of NBC News reports that the OFA Database is "one of the most powerful tools ever developed in American politics" and has already acquired a "massive computer database containing personal data on millions of American voters," to be used to mobilize an "army of the door knockers."
These Obama fans will be used to raise money for "issue ads" and promote the "national agenda" (code for Obama Agenda). There are obvious privacy concerns, as raised by Lillie Coney, associate director of the Electronic Privacy Information Center who calls the database "extremely worrisome." Organizing for Action, Isikoff reports, "refuses to say" how many people are stored in the database.
5.) OFA to "Accept Unlimited Corporate Donations"
Perhaps the most significant concern with the organization is the vast potential for cronyism. The tax status of Organizing for Action allows unlimited corporate donations. Described as "dangerous and unprecedented," by Democracy 21 (a group that seeks, in part, to eliminate the undue influence of big money in American politics"), President Fred Wertheimer laments:
"With his decision to allow corporations to fund the new organizations that will operate as an arm of his presidency, President Obama has 'given a green light to a new stampede of special interest money… would take President Obama about as far away as he could possibly get from the goal he set in 2008 to change the way business is done in Washington."
Additionally, A New York Times report revealed that a $500,000 "donation" to Organizing for Action would allow the donor to attend quarterly meetings with President Obama. This report led to an awkward exchange with White House Press Secretary Jay Carney, who had trouble addressing a specific question about large donors to Organizing for Action getting access to President Obama.
As reported by Daniel Halper of the Weekly Standard, Carney "just hurries away from the podium, even as reporters still question him" after he struggled to respond to a question about the new Obama Advocacy group.
Carney dodged the question and tried to say that Organizing for Action is somehow "independent," and "grassroots," despite the fact that it grew from President Obama's Campaign, follows his agenda, uses the verified Twitter Handle "@BarackObama," uses a "massive computer database" that contains personal data "on millions of American voters" gleaned from "Organizing for America" (troubling privacy advocates), and employs former Obama campaign workers. But it really has nothing to do with the president, right?
Image Source: Breitbart
Anyone with any sense can see that this is buying access to Obama. Even Liberal MSNBC's Chuck Todd said "This just looks bad–it looks like the White House is selling access," Todd said Monday:
"It's the definition of selling access. If you believe money has a strangle hold over the entire political system this is ceding the moral high ground."
Organizing for Action denies that access to the president can be purchased, "No one has been promised access to the president," said the group's spokeswoman, Katie Hogan, who served in a parallel role in Obama's campaign. Oh sure, we all believe that, Katie.
"It's not illegal, but it's another example of how money is soiling and corroding democracy," said Bob Edgar of Common Cause, a government watchdog. As reported by NPR, Edgar
"pointed out that Obama, in his first campaign and during his first term in office, made a point of decrying money's outsize influence in politics — even chiding the Supreme Court when it cleared the way for corporations to spend unlimited sums on campaign ads."
An 
IBD
editorial says that the denials ring untrue, "Frankly, that's not believable, given what's already been going on." The author continues:
"As if it weren't bad enough already that President Obama has decided to keep his campaign machine active as a tax-exempt, "social welfare organization" to advocate his political agenda, it's a fact that anyone who writes a check for $500,000 sits on OFA's "national advisory board" and gets face time with the president four times a year."
These sneaky
Obama Zombies
have already engaged in bad behavior. Congressman Steve Stockman found that most of the Anti-Second Amendment messages generated by "Grassroots Supporters" were really
"computer-generated spambots" from "Organizing for Action".
The Obama "Organizing for Action" team sponsored the #WeDemandAVote Twitter campaign. It is abuzz…with fake accounts and with angry tweets demanding answers. The 
Pasadena Citizen
reported that most of the fake accounts "use the default "egg" avatar" and "have engaged in no human interaction."
This is astroturf at it's finest! The fake users are easy to spot and look like this: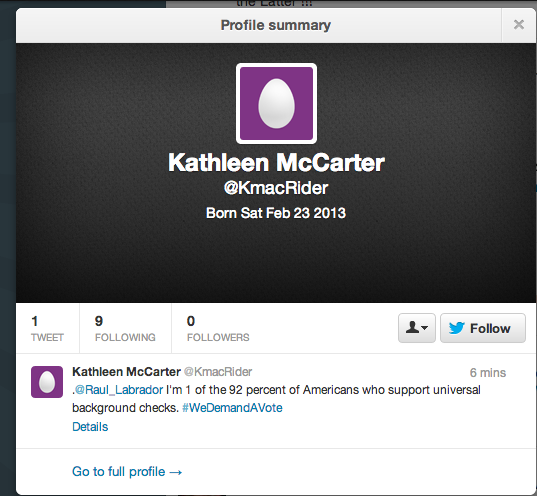 Image Source: Twitter via Twitchy
This tactic is reminiscent of Saul Alinsky, a much admired progressive activist, known particularly for his famous "Rules for Radicals". Rule Number 1: "Power is not only what you have, but what the enemy thinks you have." It is unclear how this fake campaign started and whether or not President Obama had anything to do with it.
If Organizing for Action is to have any credibility, those who have been engaging in this fraud should be fired immediately and their actions should be denounced, loudly.
This is just the beginning for Organizing for Action.
The creepy "Statement of Purpose" on their website states that the non-profit organization was established, in part, "to support President Obama in achieving enactment of the national agenda…" Organizing for Action will further:
"advocate for these policies throughout the country and will mobilize citizens of all parties and diverse points to speak out for speedy passage and effective implementation of this program, including gun control, sensible environmental policies to address climate change and immigration reform."
The Organizer in Chief is clearly using his "Community Organizing" background to his advantage. But this is community organizing on crack. Perhaps, instead of focusing on outrageous, unconstitutional, unpopular and ineffective gun control measures that target law-abiding citizens, President Obama can manage to organize a reduction in the national debt.
Organizing for Action will be powerful, it will take unlimited corporate donations, and it will mobilize citizens from across America. Organizing for Action is so-called "grassroots," using tactics that are reminiscent of the corrupt and infamous "Acorn," but on a massive scale. Will the mainstream media report the potential ramifications of such an unprecedented political machine?
First Image Source: Reuters via Politico